Food & Beverage
Food and beverage ingredients
Cargill trades raw sugar, white sugar, and ethanol. We originate sugar from the world's leading sugar-producing countries, then ship and distribute it to refineries, food and beverage producers, industrial manufacturers, distributors and end users throughout the world. We also have interests in sugar milling, ethanol distilling and refining to complement our trading and distribution activities.
In Thailand
Our local sugar team in Thailand supports our main Asia-Pacific regional office located in Hong Kong. Cargill is Thailand's largest exporter of sugar. We originate and export raw sugar, as well refined and white sugar, to supply customers throughout Asia, the Middle East and Russia.
"Thailand's Best Friend" Award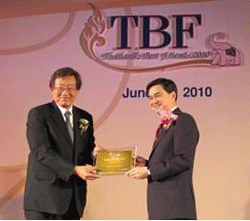 Thailand's economy is based heavily on exports, and sugar is one of Thailand's main agricultural export commodities. In recognition of the company's contribution to Thailand's export sector, Cargill was awarded the prestigious "Thailand's Best Friends" award in both 2009 and 2010.The award program, created by the Thai government in 2009, covers all export categories. Companies have to be nominated by a Thai partner company to be considered for the award.